Discover more from SCOUTED Notebook
Discover the next generation: independent journalism on football's future stars.
Over 8,000 subscribers
Modern Renaissance: Inside Royale Union Saint-Gilloise
SCOUTED visit Belgium to learn how one of the nation's most historic clubs is building a remarkable new era.
This summer, SCOUTED's Joe Donnohue visited Royale Union Saint-Gilloise.
Despite a glamour tie with Liverpool in this season's UEFA Europa League, the club are not widely known outside Belgium. But their story is remarkable: engineered by intelligent, left-field recruitment, the community club have journeyed from the depths of Belgium's third division to European nights at Anfield.
This is that story. This is USG.
Sunday, June 4, 2023. Saint-Gilles. Tucked away in South Brussels' leafy and aptly-named Forest suburb, the approach to Stade Joseph-Marien is unassuming, accessed through residential streets. You'd miss it if you didn't know it was there. The stadium, constructed for the 1920 Summer Olympiad, boasts a red-brick, Art Deco facade with sporting iconography carved into its stone. Parc Duden's greenery juxtaposes the jutting veneer on each of its adjoining sides. Most days it's the very picture of peace.
Not today. Today the Union Bhoys are the soundtrack of Saint-Gilles. Today the park is yellow and blue.
Today is the final day of the season and there are eighty-eight minutes on the clock. Royale Union Saint-Gilloise lead Club Brugge 1-0. USG have been without a major honour for 88 years: they've spent 50 of those outside of the top division; it's been 15 since they almost dropped into the Belgian fourth tier. Now they are minutes away from claiming the Belgian title.
Then Club score.
Then they score again.
And again.
Heartbreak doesn't come more distilled than this.
Three days later, I sit with USG's directeur sportif Chris O'Loughlin in his office, which feels almost out of place within Stade Joseph-Marien; sleek, bright and modern, less ornate than its adjoining rooms. He reflects on the defeat with admirable perspective, considering how fresh it must feel.  "Sunday was, in that moment, the day after [the defeat], 36 hours after - it was disappointing.
"First of all we have to move on. We're already preparing for the new season. It's coming. The days and the weeks won't stop because we're sad and disappointed.
"Let's take a step back and get some perspective," O'Loughlin says between mouthfuls, juggling a hasty lunch break and my questions. He raises the fork, pauses and continues to speak. The duration between each bite grows the longer we talk, the deeper we go into topics O'Loughlin is clearly passionate about, as does the guilt I feel for occupying him at this time. 
Our meeting is only scheduled to be a brief exchange. He must soon head to Kevin De Bruyne's hometown of Drongen to observe USG's Under-15s in a warm-up fixture against South African side Mamelodi Sundowns at the 'KDB' Cup, but he is keen to tell me Union's story in detail.
"We played 57 football matches in only our second-ever season in the first division, having been out for 48 years. We took in nine new players during the pre-season. We experienced Europe for the first time as a playing group and as a club. I didn't have the experience, the CEO didn't have experience, the President didn't have experience.
"The reality is that we lost in the 89th minute. We had already given everything in the season, that's part of football. Sometimes dramatic moments come in your favour and they can go against you and it went against us."
To understand the context of Club Brugge's three late goals, it is necessary to first return to 2007. Relegated to the third tier, which would come to be known as the Belgian First Amateur Division and where the club languished for the next eight seasons, they almost dropped into the fourth after finishing in the relegation places during 2012/13.
Irregular payments made by KVK Tienen proved a manna from heaven as the provincial club were demoted automatically, in USG's place. A subsequent play-off win over RFC de Liege ensured Union retained their third division membership, but only by a single goal and a hair's breadth.
Two promotions and one takeover later, USG's top-flight exile ended in 2021 with victory over city rivals RWD Molenbeek. They had not played in the Belgian first division since 1973.
Union finished the Belgian Pro League's regular 2021/2022 season in first place. The end-of-year play-offs, contested by the division's top four, saw them earn two victories in six and an eventual second-place finish - a sterling effort for the club's first top-flight campaign in 48 years.
Being runners-up also ensured the 11-time Belgian champions, their last title coming before the Second World War, qualified for the UEFA Champions League's third qualifying round. A 2-0 first-leg victory over Scottish Premiership side Rangers left Union in the driving seat and 90 minutes from a first appearance in European football's premium club competition.
Illustrating the magnitude of their achievement and the speed at which the club had summited Belgian football, USG's first leg triumph was played at Den Dreef, home to Oud-Heverlee Leuven, as their usual lodgings - 9,400-capacity Stade Joseph-Marien - failed to meet UEFA's stadium requirements.
The club have built a remarkable resilience to disappointment, and they needed it then: a 3-0 second-leg defeat at Ibrox ultimately consigned USG to Europa League football in 2022/23.
Union licked their wounds in characteristic style and topped the group, defeating Malmö, SC Braga and Union Berlin en route to a quarter-final exit. The team finished joint-top during the Belgian Pro League's regular season, before competing in the Championship Group for a second year running.
Ahead of the final day, USG found themselves embroiled in a tantalising three-way battle to be crowned champions. Royal Antwerp and Union began in pole position, joint on 46 points [tallies are halved when the league splits into the Championship Group]. A goal on the stroke of half-time for third-placed KRC Genk sent the border club into first.
That was until USG went in front less than 30 seconds after the restart. In the 43 minutes that followed, the title was headed to Saint-Gilles.
Shion Homma's 89th-minute equaliser for Club dashed USG's title dreams, for 2023 at least. Breakaway goals from Noa Lang and Cisse Sandra during ten minutes of added time rubbed proverbial salt in Union's wound as their inferior goal difference to Genk meant the team slipped to third, losing out on a place in the Champions League's second qualifying round.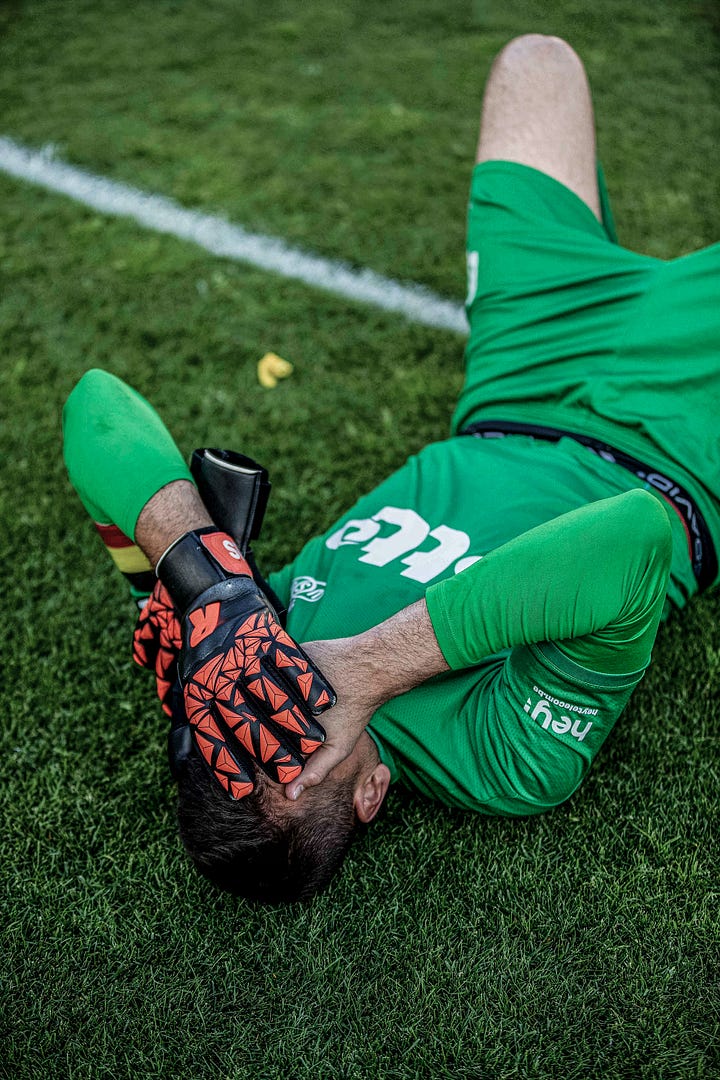 This wound will take some healing. But O'Loughlin is immensely proud of his staff and the players they recruited, who number 14 different nationalities and were largely signed from lower leagues across Europe.
While the journey is a magnificent tale itself, the unheralded work that took them from the brink of disaster to the height of European football might be the real story. This is a club draped in tradition but driven by modernity. Most of all, it harbours a commitment to recruiting undiscovered talent and turning them into stars.
USG are not a club with a blank chequebook, bottomless resources, state backing, or an armada of staff. The group O'Loughlin does work alongside are committed and share a rapport with the Irishman, including youth team coaches, with whom the jokes flow naturally as the sporting director finishes his meal and invites me on an unscheduled trip to the KDB Cup fixture.
O'Loughlin was appointed at USG in 2019, shortly after the club's acquisition by Brighton and Hove Albion chairman Tony Bloom, just three years removed from USG's promotion from the third tier. 
2023 marks ten years since O'Loughlin's arrival in Belgium. He grew up in South Africa and began his coaching career there, going on to lead Congolese giants AS Vita to the latter stages of the CAF Champions League by his early thirties. The route may have been circuitous, but I get a sense that O'Loughlin is rich in a kind of experience uncommon among his peers. He is undemonstrative but pleasant and forthcoming; softly-spoken with dry wit and a self-assuredness.
Perhaps it's that experience that has drawn such a tight-knit club together. Plans for a new stadium at USG are well underway - in the meantime, club employees work adjacent to Stade Joseph-Marien's main stand in prefabricated, container-like buildings. The changing rooms, O'Loughlin's office and hospitality suite are all situated off the same corridor, decked out in yellow and blue paintwork. The tunnel appears suddenly, bright June sunshine bursting through it and beckoning towards the pitch. As I awaited the interview's commencement, I obliged, taking in the surroundings that could so easily have been home to champions.
It is a club deeply committed to its community and that is reflected in the relationships, personal and professional, between O'Loughlin and his staff, of whom he speaks with constant reverence.
It would be easy to lay USG's remarkable success at O'Loughlin's feet and many will. But he continually stresses the importance of his community: the analysts, data scientists and contacts within the broader scouting network whose judgement and insights he relies on. He is no one-man band.
He tells me he is no data scientist, either. The scouting process involves a combination of watching games, analysing data points, collaborative conversation and crucially, a 'visualisation stage', where context can be applied to better inform recruitment decisions.
"If I'm watching a player I need to have context on the game," O'Loughlin says, as the conversation naturally meanders to process and methodology.
So, what's 'different' about the way in which USG conducts their recruitment? "We created a special bit of code, let's call it. It runs a script and pulls all the information from each of those games, two days before the game, the day of the game and the next three days.
"If [I'm looking at] a player in Belgium, then it's easy, I'll know what's going on. But if it's a player from another country and I don't follow the league every day, I won't know that was the coach's first game or that was the assistant coach or interim coach, or the coach is under pressure and he'll be fired if they don't win, they went down to ten men, they were playing the best team in that country, they were fighting relegation, playing for a championship."
Context is key. O'Loughlin is keen to stress novel computer programmes are of little, or lesser, use if not surrounded by 'good people'. He freely admits to being 'wet behind the ears' upon arriving at Union in 2019 - he moved from coaching into a sporting director's role - and credits the present alignment between directors, recruitment staff and coaches with his adaptation.
USG's scouting setup leaves no stone unturned. Data insights and software developed in-house help narrow the pool of potential targets, providing valuable, contextual information. That is not to say traditional scouting takes a back seat. 
O'Loughlin regales me with many a tale of scouting missions which gleaned little in the way of insight on the hour-long drive, snaking through Brussels' streets en route to Drongen, a journey which took longer than anticipated after members of USG staff blocked O'Loughlin's car in a tight spot down a disused lane at Stade Joseph-Marien. The area, situated behind the south-westerly facing goalmouth, doubles as parking. While sporting directors at most clubs have a designated space, it is yet another quaint reminder that this club has come a long way in such a short period of time.
Ironically, given the ten-minute lunch break I interrupted and the delay in freeing Chris' car, Union aim for their scouting to be more efficient with time and resources than their competition.
"I love the romantic way of reading the stories when a scout went and watched the player, signed him with the club [after one game] and he went on to play for X country, international, World Cup, became a Champions League winner, whatever. Those are great stories, but there's also a lot we never talk about, the ones they scouted and it didn't work.
"Let's take a step back from traditional scouting and think about it. I went to watch, on a Monday evening, a reserve game in Holland with one of the previous coaches and it was November, the weather was terrible, raining. We were in heavy traffic, roadworks. So already we weren't in the greatest form. We arrived. We went over to the stadium. It's freezing cold. Everything's shut in the stadium.
"You can't go inside, you can't get a coffee, nothing. We watch the game. And they won like 6-1. And we were watching a central defender and they played in a back three. What do you take from the game?
"There's a few scenarios that can happen. Me being an optimist, I get in the car, and we drive back and I'm finding positive things in the game. But it's not true what I'm saying. The coach, he's pissed off, because he's thinking 'I fucking wasted my time'. So, now already he's got a block against the player, and me, I'm emotionally trying to find something to be positive [about] and things like that because I made the effort."
Union watch a minimum of ten games when evaluating a potential signing in order to determine a player's 'impact' - a catch-all term, but one O'Loughlin repeats during our afternoon together, in between taking phone calls from fellow sporting directors, and his wife.
"Sometimes you're watching a player and you're like 'holy shit, this kid's amazing', and then the next thing you realise - let's say he's a winger - he's playing against the right-back of the team bottom of the league.
"We try to have as much context as possible," the 45-year-old adds.
It is in part why Union have been able to maintain levels of performance despite losing the likes of Kaoru Mitoma, Deniz Undav and Dante Vanzeir in recent seasons. This summer, attacker Simon Adingra returned to Brighton following the completion of his loan spell, while Nigerian forward Victor Boniface joined Bayer Leverkusen, where he has hit the ground running, scoring six goals and assisting twice in his opening five Bundesliga games.
Aged 21 and 22 respectively, the pair scored a cumulative 37 times for USG last season and were almost ever-presents. Club captain Teddy Teuma also departed Stade Joseph-Marien this summer, joining Stade Reims across the border in Ligue 1, while head coach Karel Geraerts has been replaced by Alexander Blessin following the expiry of his contract.
"What you have to do is you have to be prepared," O'Loughlin says, three days on from the end of the 2022/23 season, having arranged the signing of two new players that morning and agreed to part ways with Geraerts, unbeknownst to me at the time.
"Part of being prepared is moving on and knowing where we need to freshen up the team."
This summer, USG have made a healthy profit from player trading, quickly reinvesting €13 million on 12 new additions. They have signed players from Scandinavia, Switzerland, title rivals in Belgium, South American clubs Independiente del Valle and Argentinos Juniors, Kashima Antlers of Japan's top flight and the third tier of German football.
As in previous summers, recruitment has varied this term but year-on-year it clicks on the pitch. Union have begun 2023/24 with five wins from their opening eight league games and secured a place in the Europa League group stage, defeating Swiss outfit Lugano in a play-off, from whom they poached breakout forward Mohamed Amoura during the summer.
Given USG's link with Brighton, it could be assumed the club have been aided by that relationship on their recent climb, but the reality is while the two clubs exist under professional bettor Bloom's investment portfolio, he remains a 'silent investor'. This year, the Albion chairman reduced his share in USG to a minority stake, ensuring the two clubs will not contravene UEFA's multi-club ownership rule with their participation in the Europa League.
USG are run independently, headed up by O'Loughlin and Club President Alex Muzio, whose data insights and decades-long expertise in that particular field are central to their unique scouting approach.
Additionally, O'Loughlin points out Brighton's monitoring of the Belgian league long before Union's rise to prominence. He recalls a scouting trip to SV Meppen, prior to USG's 2020 acquisition of Undav, who proceeded to score 45 in 68 appearances at Stade Joseph-Marien before sealing his Premier League transfer to the Seagulls.
The club have certainly benefited from their Brighton ties in loaning the likes of Mitoma and Adingra from the English club in recent seasons, but USG have still needed to be flexible and proactive in the market. A successful loan spell at Stade Joseph-Marien tends to mean it won't be long before Brighton reintegrate said player into their first-team. Mitigating those losses is just part of the job.
"I'm not going to say that our way is the only way, there are other people, their ways work. For us, this works because we are able to look at so many players. We built this [algorithm] ourselves. We took a 'stage', like a computer engineering [course].
"We set some code into it and [using] the parameters, I'm able to pull the impact of the player."
O'Loughlin shows me how to use the Union-developed programme. It features a context folder which includes stills of in-game situations, data insights, and even screenshots of WhatsApp conversations between scouts. All this, alongside various other pieces of contextual information - everything you could want to know about a given player, really - comes at the touch of a button.
Despite recent competitive disappointments, there is a palpable sense this is merely the beginning of USG's journey at the top table. Important players, 11 first-team squad members in total, have left this summer, but the mentality is not how will we cope? but a defiant bring it on. 
At the time of Brighton chairman Bloom's initial investment in 2018, there were few headlines to be made about the acquisition of a second tier Belgian club. This season, Brighton and Union have both qualified for the Europa League, where the Brussels club have drawn Liverpool in the group stage, setting up a charming reunion for brothers Alexis and Kevin Mac Allister.
"We just need to go step-by-step for now," O'Loughlin says. "The potential is there because we have a lot of good people working in the club, who really care about it, who have a strong set of skills in various departments.
"Expectation is building off the two seasons and that'll be a challenge because we're not guaranteed next season that we'll do the same.
"Organisations overcoming challenges, that's what ultimately makes them successful in the long-run. We were able to do that this season [2022/23]. The challenges of all those games, it was difficult. We have a small staff, but we were able to overcome them. And that's maybe why we've had a beautiful season."
Having reached the last eight of the Europa League as recently as April, it will be difficult to supersede their achievements in that particular competition with departures on the playing side. O'Loughlin, though, remains grounded but ambitious.
As Drongen comes into view, the SatNav display's estimated arrival time suggests my opportunity to quiz a European club's sporting director one-on-one is reaching its natural conclusion. I ask Chris whether the footballing romantic in him can ignore the fact next year's Europa League final will be hosted at Dublin's Aviva Stadium. He chuckles. For now, Anfield might have to do.
"Let's keep it as a romantic daydream. Keep living the daydream. That would be awesome, because I know a few people [in Ireland], so that would be nice.
"The club used to be a powerhouse of Belgian football," the Limerick-born directeur sportif adds, parking up, applying suncream to his 'Irish skin' and greeting the Sundowns delegation, many of whom he is already familiar with.
"If we can meet those challenges, why not again?"
With thanks to Chris O'Loughlin, Maarten Verdoodt, Alex Muzio and the staff at Royale Union Saint-Gilloise.
Photography courtesy of Royale Union Saint-Gilloise.
SCOUTED Notebook is an employee-owned, reader-supported publication. Subscribe now to help an independent entity flourish.